Past · Recommended
"200 Amsterdam" Queen of the West, crowned with a crown
"The Anable" is the latest cost-effective building in Long Island City, New York?
The groundbreaking ceremony for the Athena LIC project, a luxury condominium in Long Island City, was a perfect success
News Express NEW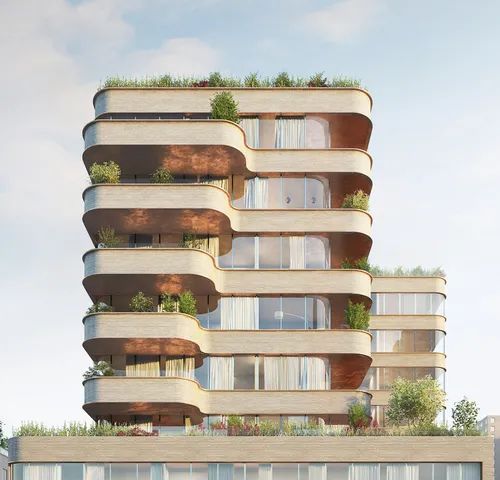 208 Delancey must be the most talked-about new building in Manhattan recently. 208 Delancey has become a new landmark in Manhattan's Lower East Side with its artistic architectural design. 208 Delancey focuses on ventilation, light and tone , and the interior design blends perfectly into the signature curves of the exterior design . The creative and user-friendly design is truly amazing. In addition, this new building also accepts RMB payment , which is a rare opportunity.
Today, Xiaobian takes a look at the hottest apartment building in the Lower East Side from five aspects: location, construction team, building appearance, facilities and interior decoration.
01 Geographical Conditions
208 delancey is strategically located on the lower east side of Manhattan's Lower East Side, at the foot of the Williamsburg Bridge, Chinatown and Little Italy to the west, and the financial district to the south.
The surrounding transportation is very convenient , and there are several subway lines of F/M/J/Z nearby. It is a 25-minute walk to Pratt, and a 30-minute subway ride to NYU, Pace and other schools.
A very vibrant, diverse, artsy, and LGBTQ-friendly neighborhood on Manhattan's Lower East Side , it's a gathering place for young people and artists. Asians and whites are equally represented, both around 30%. In addition, there are many trendy restaurants, bars and shops around the Lower East Side, where you can experience very authentic local New York culture and enjoy first-class dining, leisure and shopping experiences, and the rich nightlife here will make you linger .
02 Construction Team
Developed by New Empire Corp and designed by award-winning ODA New York, 208 Delancey offers 85 apartments over 12 floors in sizes ranging from studio to three-bedroom .
Founded in 1997, New Empire Corp is a "one-stop" prime real estate developer specializing in the design and construction of mid-rise residential and mixed-use projects in New York City. New Empire Corp has renovated and constructed more than 100 residential multifamily projects in New York City. Multiple projects became New York City sales champions.
Founded in 2007, ODA New York has rapidly grown to become one of the most recognized architectural design firms in the industry. ODA New York dares to challenge the traditional view of housing, breaks the convention of traditional architectural design with creativity and imagination, and has designed a series of famous commercial and residential projects, and won numerous awards.
03 Architectural Design
building exterior
Designed by ODA New York, the 208 Delancey has a very unique look . The building's curved design brings light, air and views to its curved exterior, rounded windows and expansive balconies . Ribbon-like windows are inspired by the famous Bauhaus movement in architecture , with curved lines running through the interior, creating a unique architectural style at the gate to Manhattan.
04 Building Facilities
Building amenities are an extension of the residence, providing residents with an easy and convenient way of life. The facilities in the 208 Delancey building are also well-designed . It can be said to have everything and everything. In addition to a well-equipped gym, yoga room, lounge, and roof terrace, it also adds a private courtyard with beautiful scenery, pet grooming room , etc. .
private courtyard
The beautifully landscaped private garden courtyard leads directly to the building lounge , surrounded by lush greenery, allowing you to temporarily escape the hustle and bustle of the city , meditate in the courtyard and enjoy inner peace.
lounge
208 Delancey provides all residents with a spacious and comfortable lounge with an innovative design of undulating double-height ceilings , where you can relax, study or work. In addition, the lounge features a kitchen, dining and billiards area , as well as a glass-enclosed private meeting room , which is definitely a great place to work, relax or even dine.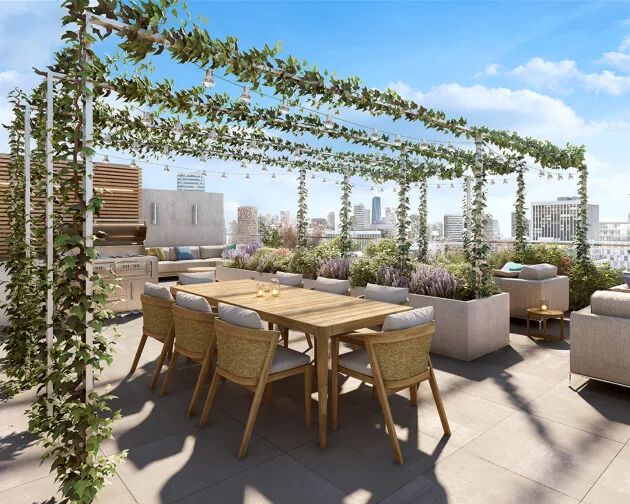 top terrace
208 Delancey has a stunning top-floor terrace where you can enjoy stunning views of the New York City skyline with your friends, a fully equipped kitchen, fireplace and various seating areas where you can enjoy a relaxing BBQ picnic with your friends time.

05 Upholstery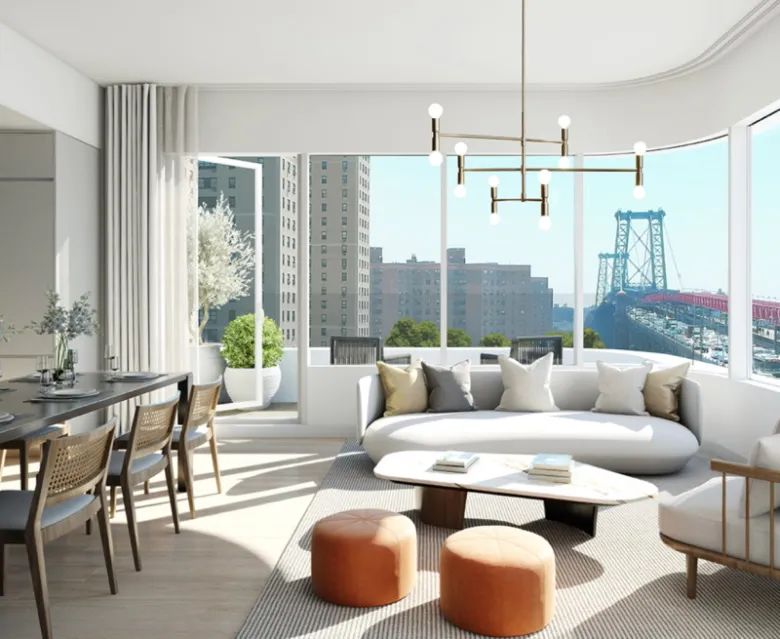 The interior design of 208 Delancey focuses on light, ventilation and colour . The entire interior is dominated by natural and soft light tones (beige and white), which are full of high-end but homely warmth. The design that pays attention to lighting ensures that the interior is bright and airy , so that you can wake up every morning to enjoy the beautiful natural light shining in.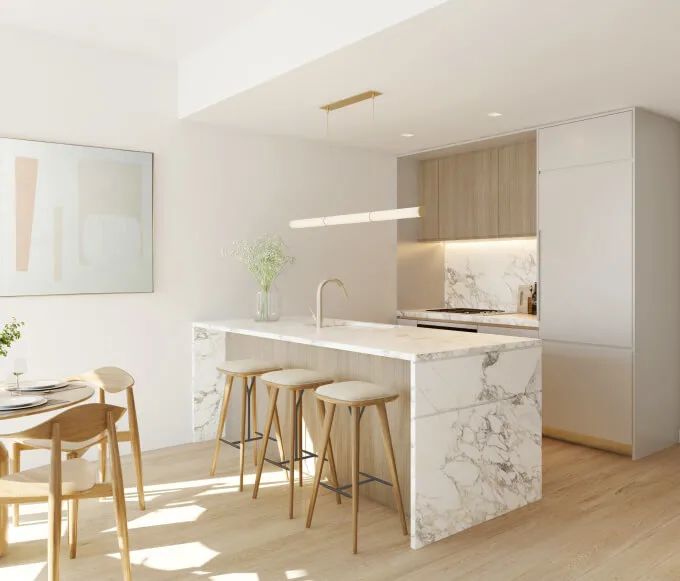 The building is equipped with high-end smart door locks , plus a 24-hour doorman to double your security. 208 Delancey is particularly good at blending natural materials, bespoke woodwork and premium finishes . Approaching the custom open kitchen, you will find the kitchen island, splashback and countertops are stylish and sculptural marble designs, and equipped with appliances from the well-known German first-line brand Miele.
Unlike other apartments in New York, 208 Delancey's design allows the gas after cooking to be exhausted directly to the outside, ensuring the cleanliness of the interior . A 30-inch built-in refrigerator blends in with custom oak cabinets. In addition , indoor drying and washing will be provided indoors , making your life easy and hassle-free.
Step into the bathroom and you'll find a custom walnut vanity, mirror with integrated LED lighting, walk-in shower and radiant heated Blue De Savoie marble floor with preset temperature controls .
In addition, 30% of the building's residents will have balconies that allow you to enjoy beautiful Manhattan views.
Summary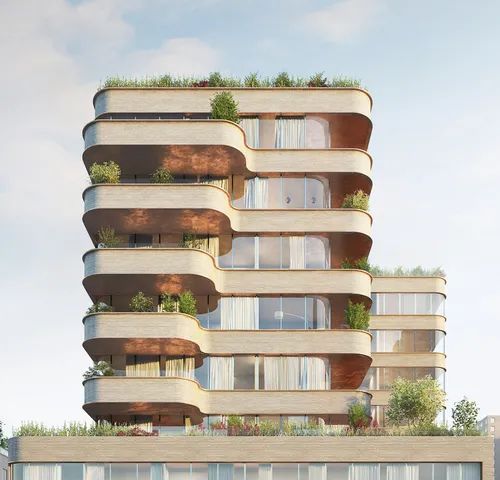 208 Delancey has an excellent location, a convenient living environment, diverse apartment types and outstanding design. The interior of the building pays attention to lighting, ventilation and color, and the smart home system makes your life easy and worry-free, whether it is investment or self-occupation, it is a good choice .
208 Delancey is on sale, and it is expected to be handed over in the second half of 2022. And we Acre NY also got the developer's internal housing , the price starts from 630,000 US dollars, and accepts RMB payment , the opportunity is really rare. Scan the QR code below to find your favorite agent for consultation!