Past · Recommended
"200 Amsterdam" Queen of the West, crowned with a crown
"The Anable" is the latest cost-effective building in Long Island City, New York?
The groundbreaking ceremony for the Athena LIC project, a luxury condominium in Long Island City, was a perfect success
News Express NEW
To say that the hottest new building in Long Island City, New York, must be Nova. Nova stands out with its elegant appearance and sophisticated design. Different from other luxury buildings in Long Island City, Nova's design incorporates Feng Shui elements for better layout, lighting and air intake . Cattle and sheep choose water and grass to live, birds choose good trees to live, and people are the same, good feng shui can maintain the health of the human body.
Today, Xiaobian takes a look at the hottest apartment building in Long Island City from five aspects: location, construction team, building appearance, facilities and interior decoration.
01 Geographical Conditions
Nova is strategically located in Long Island City, New York's most promising area. Long Island City, the core area of ​​Queens, New York City, has grown rapidly over the past decade. After the construction of the city, the whole Long Island City has undergone tremendous changes, and the housing price has increased by nearly 70% in the past 10 years (data sourced from Smith Team Long Island City market research). It is adjacent to Manhattan, next to the East River and brings him a corner of the port. The urban transportation construction is very complete. With its unique geographical advantage, Long Island City has become the next Manhattan by default.
There are 6 different subway lines E/M/R/7/W/N around Nova. There are many supermarkets and gourmet shops and milk tea shops downstairs. In addition , there is a park outside the Nova building , allowing you to get close to nature, relax physically and mentally, and have a comfortable green space.
02 construction team
Developed by SB Development Group and designed by Fogarty Finger, the building will offer 86 apartments for sale. The homes range in size from studios to three-bedrooms, with up to five apartments per floor.
SB Development (SBD) is a premier real estate developer with over 20 properties built in the New York metropolitan area with extensive experience in ground-level residential construction. SBD has adopted a unique design-build approach over the past decade, applying its construction experience, practical methods, and strict timetable adherence to build meaningful projects.
Fogarty Finger is an industry-leading New York architecture and design studio. Founded in 2003, the studio has more than 100 outstanding architects and designers. The studio has demonstrated its dual strengths in architecture and interior design through a series of prestigious commercial and residential projects, and has won numerous awards.
03 Architectural Design
Garden Ground floor
The ground floor of the garden is where the Olympia landed. Olympia's communal entry space has been crafted by interior design studio Workstead, featuring their signature stone and wood carving details, combining a grand three-level lobby with an intimate garden lounge.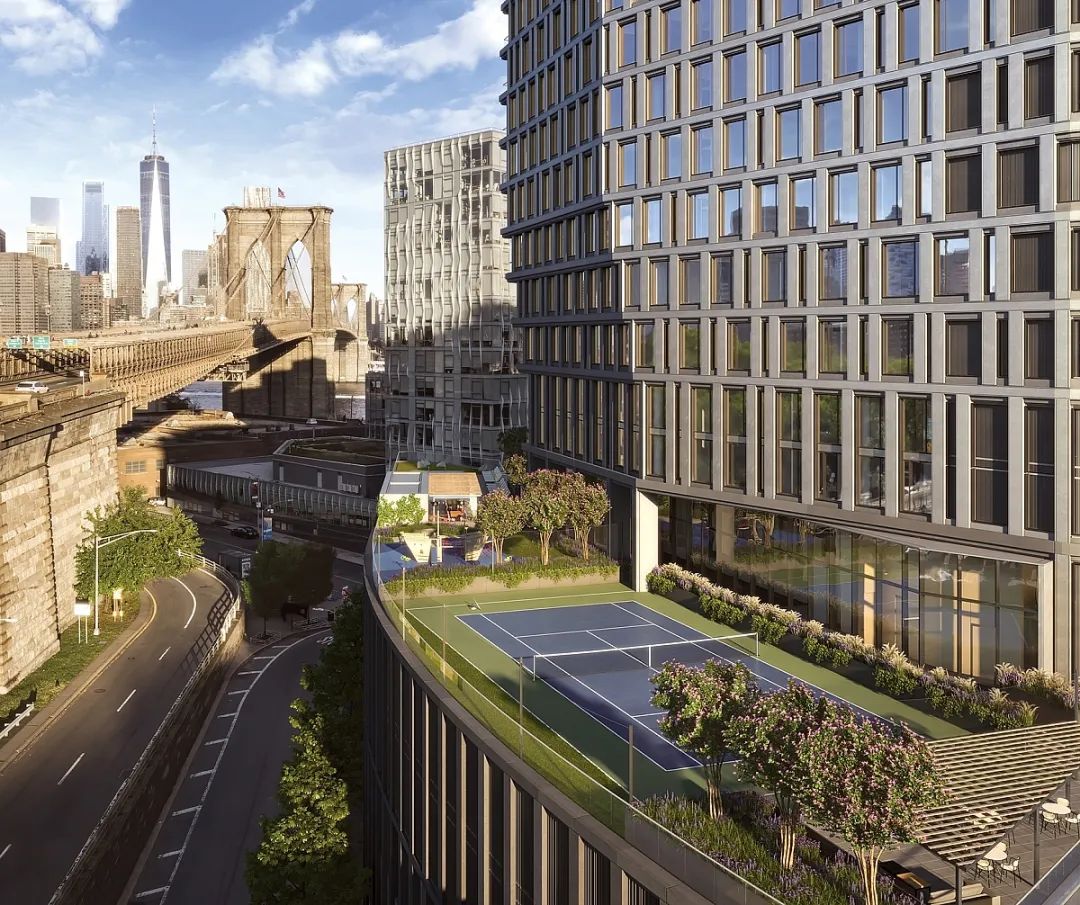 building exterior
Designed by New York-based studio Fogarty Finger, NOVA takes inspiration from Manhattan's iconic Flatiron Building. The entire building plus the top floor is 26 stories high, the exterior of the design is very elegant, and refers to the design elements of Feng Shui, the whole building is wedge-shaped, covered with light white terracotta exterior walls, the first floor has bright floor-to-ceiling windows, and the second floor is typical perforated window system. There is an open-air balcony and lounge on the roof.
04 Building facilities
Nova specializes in combining time-tested buildings with full-service building amenities to bring tenants a convenient and relaxing lifestyle . The top floor will feature balconies and an indoor lounge with panoramic views of the Long Island City skyline. Other facilities include a library with terrace, fitness center, children's lounge, pet grooming area and bicycle storage.
children's playroom
Nova has set up a children's play room, which is very suitable for families. Let you take your children to enjoy interesting game time without leaving home, intensify their curiosity in the game, witness their growth, and share the joy of family.
Roof top
At Nova's rooftop lounge on the 26th floor, you can chat with friends, family, and neighbors while enjoying panoramic views of New York's stunning skyline .

05  upholstery