Many friends have received offers from NYU one after another. Are you looking forward to coming to NYU for a new journey this fall ? But at the same time, are you a little confused and uncertain about your future life at NYU , and don't know what to prepare for?
Don't worry, the editor has compiled the most complete NYU freshman strategy in history for you today to help you get through the adaptation period perfectly! Collect it now!
NYU Calendar
Different professors have different requirements, and the midterm time of each class is different , and some may have more than 2 times. NYU will update the vacation schedule and final week time for each semester on the official website .
NYU Students' Most-Used Websites
NYU Albert choose courses and view your grades here
Read Albert Help carefully before choosing a course
Ways to pay tuition fees still have to be paid
Brightspace see your class schedule here
For the specific operation process, click below for a detailed guide.
NYU campus introduction
Welcome to New York's Purple Paradise
We don't have a campus because the whole Manhattan is our campus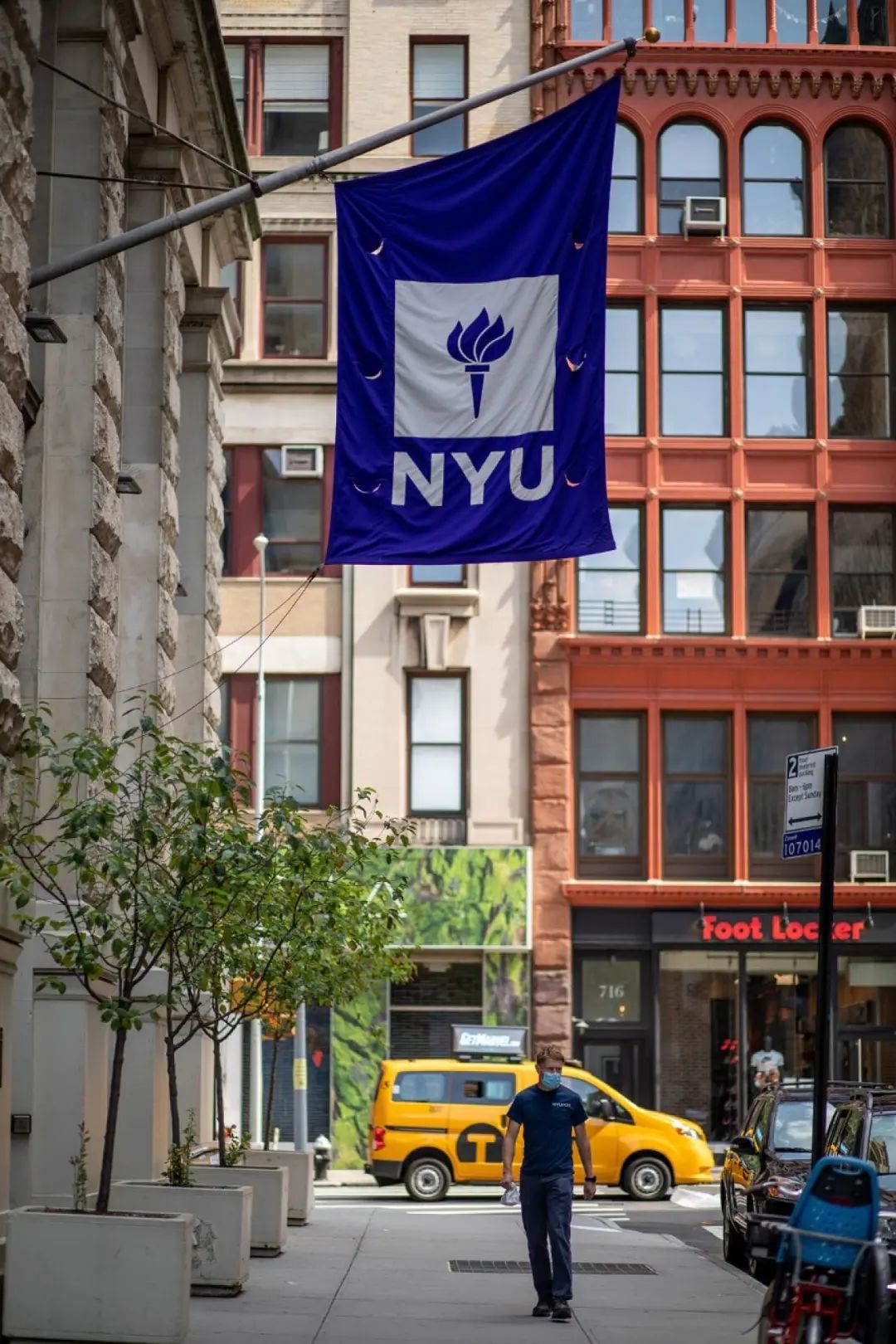 New York University (New York University), founded in 1831, is the world's top private research university , located in New York City, USA. It was founded by the then US Secretary of the Treasury Albert Gallatin. 1. At the same time, 11 global academic centers have been established in London, Madrid, Sydney, Berlin, Paris and other places.
In 2020-21, New York University ranked 35th in the QS World University Rankings , 30th in the US News Best Universities in the United States, and 9th in the QS American University Rankings. As of October 2020, the school's alumni, professors and researchers have produced 38 Nobel Prize winners (19th in the world), 5 Fields Medal winners, 8 Turing Award winners, and 26 general Ritz-Prize winner, 37 Academy Award winners.
New York University has the world's top academic resources in philosophy, mathematics, medicine, accounting and finance, law, performing arts, computer science and other disciplines, and the graduate school enjoys a high reputation . The Tisch School of the Arts has the top performing arts majors and film production majors in the United States; the Stern School of Business is a world-renowned business school, with majors such as finance, finance, and real estate ranking among the top three in the United States; the Courant Institute for Mathematical Sciences is the No. 1 application in the United States Mathematical Research Institute.
The location of NYU can be said to be quite good . It is located in the center of New York – Manhattan. If you prefer to go to school in a high-rise building, NYU is a better choice!
NYU Campus List
NYU has 15 campuses all over the world.
Main campuses where degrees are offered:
NYU New York
NYU Abu Dhabi
NYU Shanghai
There are 12 campuses.
Semester System
NYU is a two-semester system, with Fall and Spring semesters a year. In addition, there are summer and winter sessions. Students who want to graduate early or are simply interested in courses can also choose courses in these two sessions to get credits.
How to apply for a visa
i-20 application process
1. Google search for NYU i20, click Apply for an I-20 or DS-190.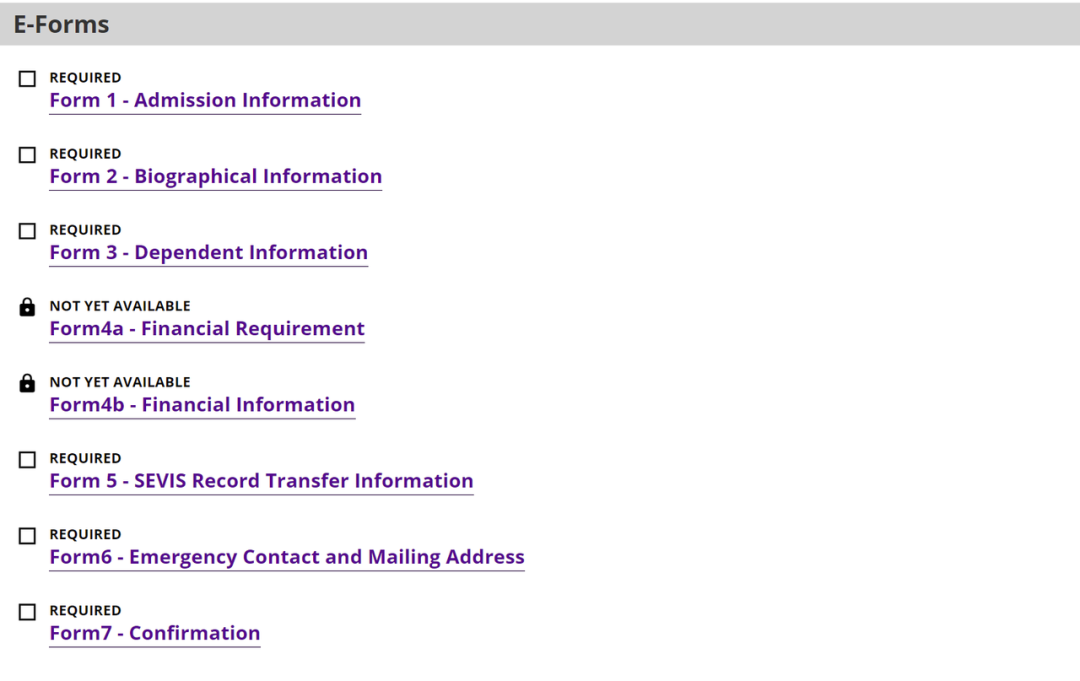 How to pay tuition
How to check tuition bill
1. Log in to the Albert website and select Finances in the left column
2. Click View Bursar Account to jump to a new page to view your tuition bills and history.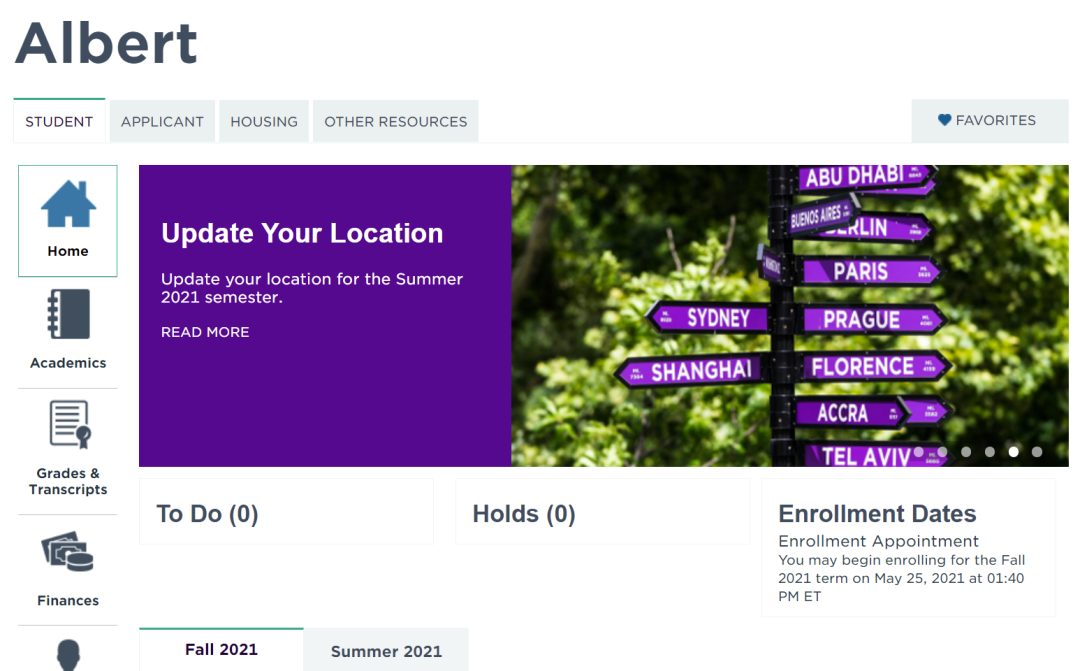 How to pay
NYU has a variety of payment methods, you can choose freely. For detailed payment methods, you can search ways to pay-NYU
The payment methods commonly used by international students
are:
eSuite payment
eSuite requires a US bank account and cannot use savings accounts, debit cards, international accounts or credit cards. However, this method is real-time and easy to operate. It can be used 24 hours a day, 7 days a week, and there is no handling fee. You can pay in the Bursar jump interface mentioned above.
Third party payment
Such as Yisihui platform, etc. Low bank account requirements, but students will be responsible for all consequences if the school does not receive funds.
International wire transfer
NYU has partnered with Flywire to offer a variety of payment methods and currency options. In addition, you can also transfer through domestic banks, remember to bring the admission notice, passport, I20 and the remitter's ID card , which requires a certain handling fee.
Dormitory Selection Guide
Introduction of freshman dormitory
NYU requires freshmen to live in dormitories and cannot choose roommates . The optional dormitories include Goddard, Weinstein, Lipton, Founders, Rubin and so on.
Dormitory selection guidelines and DDL
The room types and prices of freshmen dormitory are shown in the table below: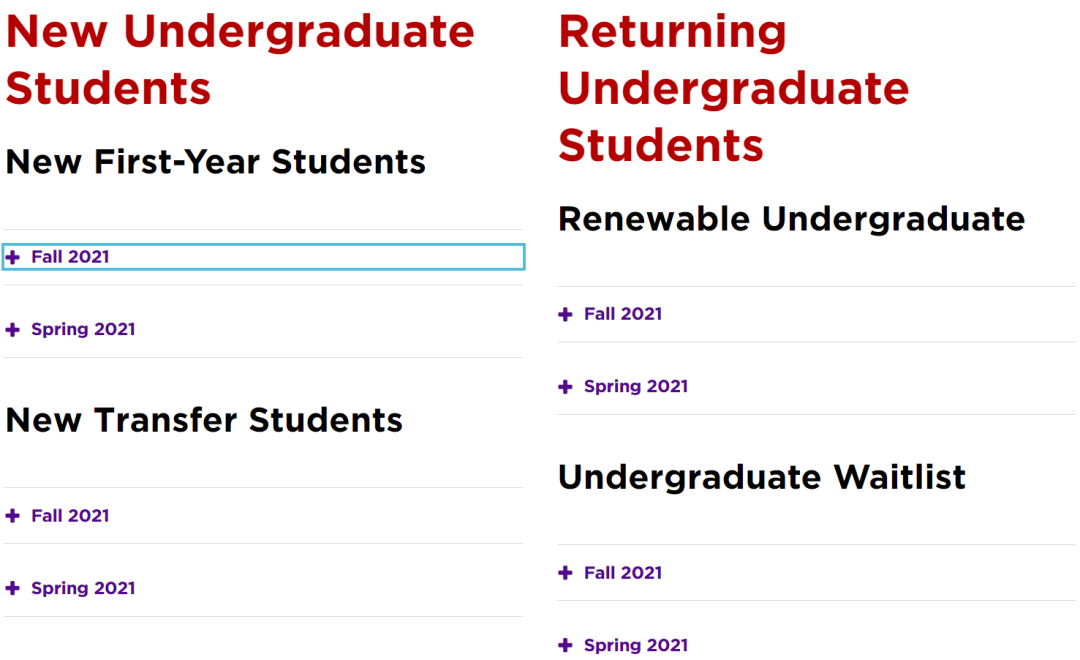 entrance exam; entrance test
Placement Test
In order to allow students to choose their own courses, NYU provides Placement exams so that students can skip certain basic courses and other courses , and the specific test content depends on the course content. CAS offers three Placement exams: Math, CS, and Foreign Language . For example, a student who has passed the Math Calculus I placement exam can start class with Calculus II, where the exam covers the course content of Calculus I.
Registration operation and DDL
In 2021, due to the epidemic situation, the exam will be changed to online . You can find the corresponding link entry to register according to the exam you want to take. Take math as an example:
1. Click on the link Schedule of upcoming calculus placement exams in the summary.

2. Go to the following page and click Click here to register for an exam to make an appointment.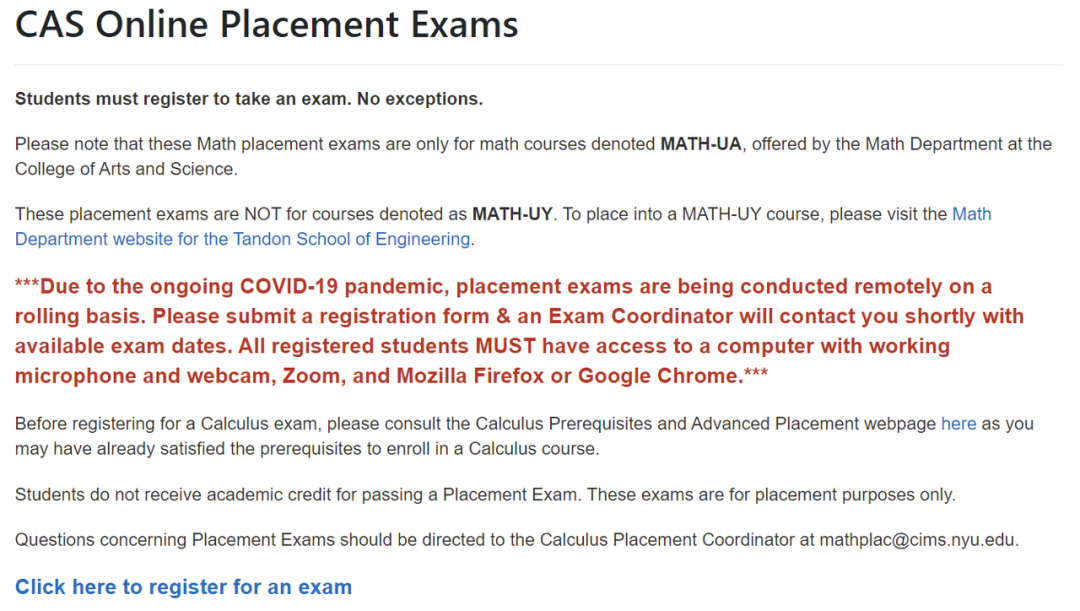 How to choose courses
Basic process
1. Check your course selection time on albert, namely Enrollment Dates
2. Before the advisor contacts you (usually the night before the course selection date), add the courses you want to the shopping cart through course search
3. Wait until the advisor sends an email to contact you, wait for the advisor to clear your holds, and then you can enroll those courses in the shopping cart.
4. Normal full-time students can choose 12-18 credits per semester. Writing courses and CAS's first year seminar are all 4 credits. You have to count the credits before choosing courses! If you want to take more than 18 credits, you need to contact your advisor to give you the permission for excess credits.
【Welfare】
After choosing a course, remember to scan the QR code below, and our customer service assistant will pull you into the NYU freshman classmate group.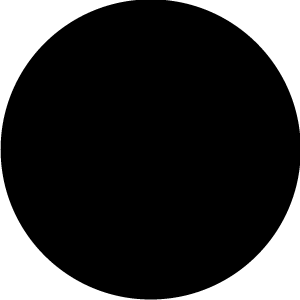 Vaccine & Nucleic Acid Detection
Do schools have to get Covid-19 vaccines?
NYU vaccine requires everyone to log in to their Health Center website to view: https://shcportal.nyu.edu/
NYU accepts WHO-certified COVID-19 vaccines, including Sinovac and Beijing Biovaccine. Pay attention to the deadline for uploading the vaccine certificate , and everyone should upload it as soon as possible.
In addition to the additional COVID-19 vaccine for 2022, the base vaccine needs to include: Measles (measles), Meningococcal ACWY (meningococcal vaccine (types A, C, Y, W 135)), Mumps (mumps) and Rubella (rubella) .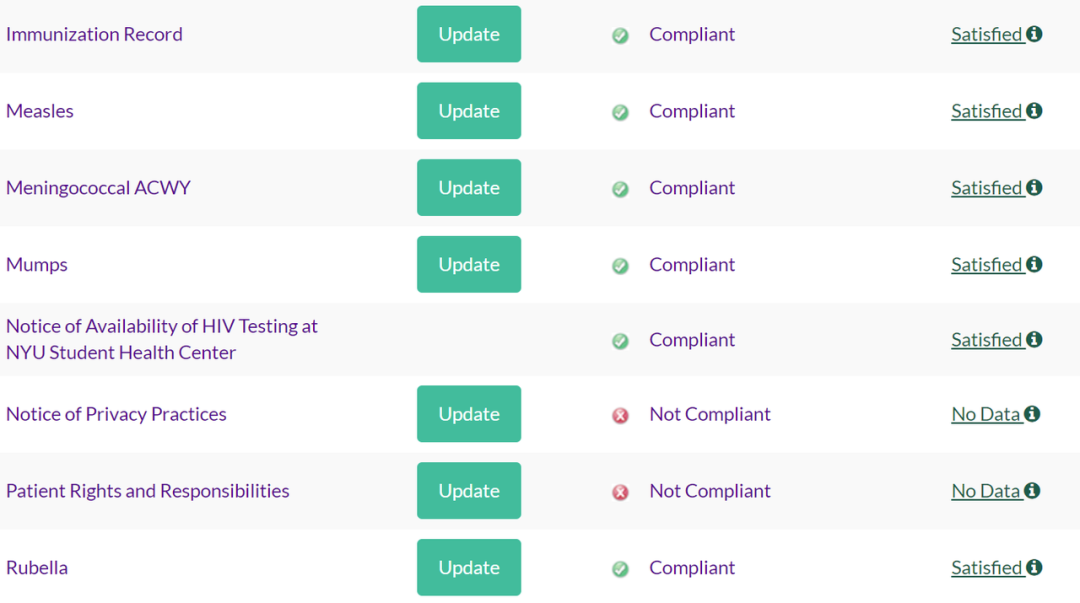 You can make an appointment at the local quarantine agency by phone, official account, website, etc. After arriving at the quarantine agency, prepare materials according to the suggestions and specific instructions, and get the certificate according to the process. After the physical examination, you will get a small red book (international health certificate), and get a small yellow book (vaccine record) after vaccination, and the doctor will fill in the NYU vaccine form (download the Immunization Record from the website).
Upload your own file information in each section through the Update instruction of the website. After waiting for the system to pass, an email will be sent to everyone to confirm
Baggage Checklist and Required Documents Reference
After complicated procedures and procedures, I finally applied for a US visa, and the next thing that makes the newborn cubs most uneasy must be to enter the country!
What documents do I need to bring when entering the United States? What is the whole process of entry like? How to fill in the declaration form? Which way should I go? What questions will border and customs officers ask me? Will you be locked in a dark room? What should not be carried?
I believe that these are the issues that everyone is very concerned about. For this reason, we have specially prepared a super-detailed entry process strategy for you, which can help you deal with it calmly when entering the country.
If you want to get the entry process, please scan the QR code below.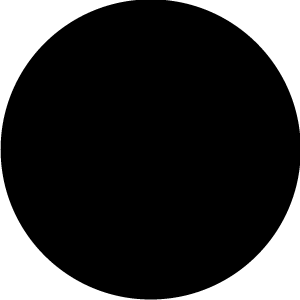 Landed at the Airport. Now How Do I Go to School?
Airport to school transportation route and method
NYU will provide pick-up service from the three major airports (John F. Kennedy, LaGuardia and Newark-Liberty) to the campus. For specific price information, please refer to the official website.
In addition, you can also choose to take a taxi or rent a car from Chinese people. The price is more expensive but very convenient. You can consider carpooling with friends. It is highly not recommended to use the taxi service in the airport, the price is much more expensive than Uber. It is also not recommended to take the subway, the distance is relatively long, it will be very tiring to carry a suitcase, and it is not very safe to take the subway at night.
Bank card application
After arriving in New York, you can open Checking Account and Saving Account at the bank . When opening an account, please remember to bring your passport, I20, and NYU ID Card.
In addition, you can also apply for a credit card to build up your credit limit. However, a credit card needs to be applied for, and the specific requirements can be communicated with the bank.
Common large banks include: Bank of America (cooperating with NYU), Chase, HSBC, HSBC, Citi Bank, etc.
Here are some of the nearest bank addresses :
Bank of America:
770 Broadway New York, NY 10003, USA
Chase:
32 University Pl, New York, NY 10003, USA
Meal plan
NYU has three dining hall transactions: Meal plan, Dining dollar, and Campus cash .
NYU mandates that freshmen purchase a meal plan and do not need to go to the website to purchase it themselves. Dorms without kitchens need to buy at least 225, and dorms with kitchens need to buy at least 120. It is generally difficult to eat all of them in one semester, so plan and use them reasonably. Meal plans that are not used up at the end of the semester will be cleared.
Dining dollar :
Included in meal plan packages, such as 225 meal plans including $100 dining dollar. In addition to being used in the cafeteria, dining dollars can also be used to spend at Starbucks and Dunkin Donuts partnered with NYU.
Campus cash :
Not included in the package, you need to recharge by yourself. Available at school vending machines and dorm laundry rooms. Ways to purchase:
Google🔍Search: NYU campus cash, click Campus Cash – NYU.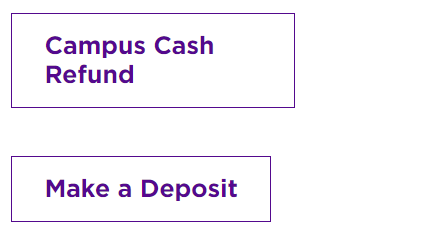 Dining Around the School
Food
The restaurants near NYU can be said to be there, whether you like to eat Chinese food, Japanese food, Korean food and other restaurants can be found . Frequent Chinese restaurants include Pangolin (authentic and delicious Sichuan cuisine), Suzhou Hangzhou (Jiangsu and Zhejiang cuisine), Yunzhinan (Yunnan rice noodle), Tim Haoyun (Cantonese cuisine), Dunhuang (beef noodles), face to face (various types of noodles) , Mom Malatang, etc.; milk tea shops include Boba Guy, Kung Fu Tea, Lujiaoxiang, KOI, COCO, Debutea, etc.;
Dessert shops include Fresh Taro, Cha An, Mango Mango Dessert, etc.; Japanese dishes include Hakata Tonton (Sukiyaki), Hi-Collar (Omurice), Yakitori Taisho (Japanese skewers), Ippudo (Ramen) and many more. There are many more, which can be explored slowly.
Shopping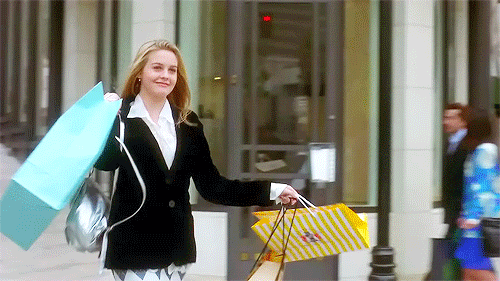 NYU's main campus is very close to SoHo , about a 5-minute walk away. SoHo is a gathering place for major brands , and it is also a famous tourist shopping place. Whether it is clothes or jewelry, big brands or cheap, you can find them here.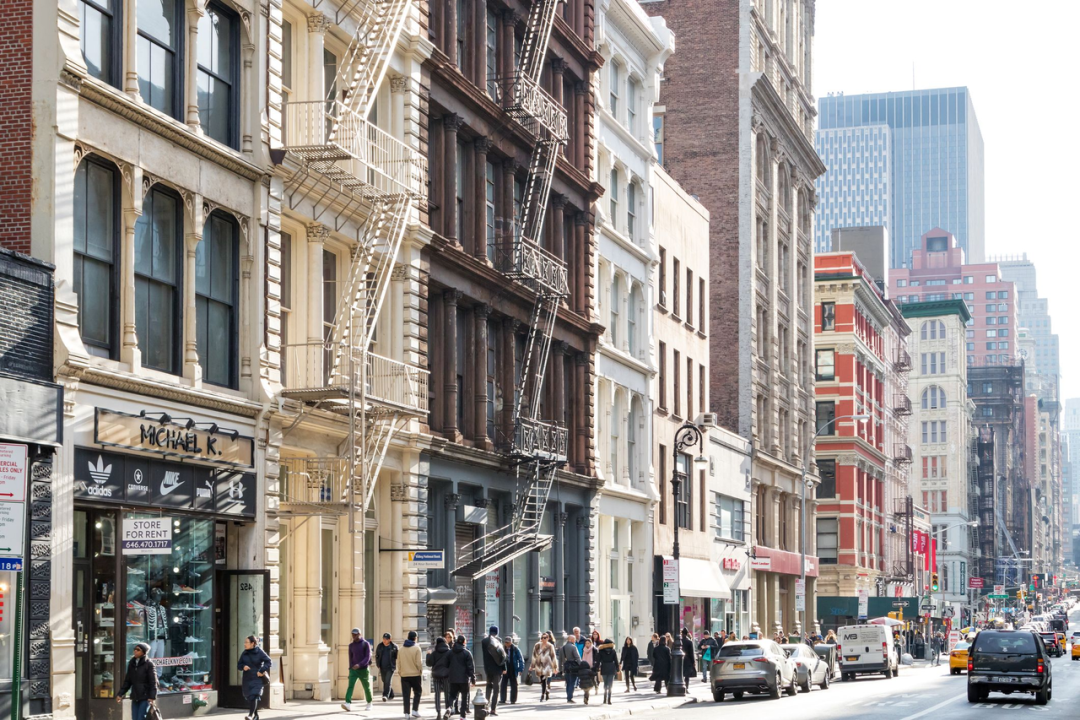 Attractions
Washington Square is the core area of ​​NYU. When the sun is good, you can go to the grass for a picnic, and there will be street art performances every day. It is a very good place to rest . In addition, NYU or the dormitory will also organize activities to visit attractions, such as Vessel and the Statue of Liberty, etc. You can pay attention to related activities during the orientation week.
In addition, admission to major museums with a student ID is also free . The two most recommended museums are MOMA and MET . MOMA (Museum of Contemporary Art) has a collection of many modern art works, including original works by Van Gogh, Picasso, Mondrian, etc. It is worth visiting. The MET (Metropolitan Museum) is one of the most famous museums in the world, with a large collection, including nearly two million permanent exhibits from ancient Egypt, Greece, Rome, and more.
NYU is very close to Broadway. There are many classic or popular musicals staged every week . Students who like to watch musicals can often go to relevant websites to check the performances and discount information, especially pay attention to the information of Broadway Week, the discount is very strong. . Now Broadway has gradually resumed performances, and will probably return to the performance density before the epidemic soon.
transportation
There are generally four modes of travel: school bus, subway, bus and taxi .
School Bus
You can download the NYUmobile mobile app to view the bus routes and arrivals (Shuttles) , including the routes between the two campuses, the routes between the main campus and the slightly distant dormitory buildings, etc. NYU students can take the bus for free with their student card, which is very convenient.
Subway/Bus :
Metro buses all need to buy a Metro card subway card to swipe the card, and most lines are 2.75 dollars a time . The subway is more convenient, but the environment is very poor and the lines are intricate. If you follow Google map, you may get lost. Pay careful attention to the signs in the subway station. The bus environment is good and much cooler than the subway, but not as fast as the subway and the price is the same as the subway.
Taxi :
Taxi apps are very convenient and fast, but they are expensive. For example, from Washington Park to the Empire State Building, it costs 10-12 dollars. In addition, you can also go out and stop the car, which is cheaper than Uber and Lyft.
What To Do Before School Starts
School Training
Remember to complete the training and education required by NYU before the start of school, including sexual misconduct prevention and drinking education . Everyone remember to pay attention to the ddl of these tasks so as not to miss it (please check your mailbox~), which also includes other important ddl such as uploading vaccine information and dormitory application)
Orientation Week
NYU will have a welcome week before the start of each academic year, and there will be more than 500 different activities in this week .
On the first day, there will be the only Presidential welcome that all members must attend . At the opening ceremony, the principal and the deans of the college will address the new students. After the speeches, there will be a content-rich Reality show.
Other orientation week activities, including chatting and shopping activities based on interests and nationalities (such as lgbt, kpop, harry potter, asian students, etc.) nights, Drag bingo, Silent Rave and themed dance parties are highly recommended for everyone to attend. The specific activities can be viewed on the mobile app NYUmobile .
There will also be a Club fest after the school starts , where you can learn about the many clubs in NYU. Through these activities, everyone can meet new friends, learn about the environment around NYU, and prepare for the new semester.
University will be your most important time, welcome to NYU and create your purple world ~
If you want to enter the NYU freshman wechat group or have any questions about renting, please scan the QR code below for consultation!